Event
The Osaka Marathon RUNNING EVENT
The Osaka Marathon RUNNING EVENT

The Osaka Marathon Happy Morning Run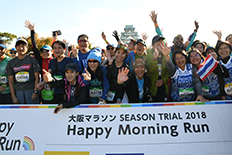 Running transcends borders!
The Happy Morning Run is getting popular year after year and this year, we will also organize it once again. This is a fun run event, international runners passing through Osaka Castle Park as well as domestic runners with families and friends in the previous morning of race day.
This year, a tenugui or a Japanese style hand towel will be given out for every participant as a souvenir for the first time, which can be used as a hachimaki or headband to wear around the head or worn around your neck or wrist just like a scarf.
Let's pump up the event by wearing an item with Japanese vibe. So let's join international runners and enjoy all the atmosphere of Osaka and delightful sights such as Osaka Castle and its beautiful nature together!
We are looking forward to having you with warm hospitality unique to Osaka.